Business Trends
Business Trend 1 of 5
The end of owning stuff
Innovative online platforms are continuing to support the shift away from ownership towards access in a range of industries. They allow individuals and companies to provide easy access to their assets, resources, time, and skills, often at lower cost and more convenience than was traditionally possible.
This is not necessarily about sharing resources for social benefit, but about making the exchange of money for services more fluid and accessible to everyone. In the last few years this has become a mainstream practice:
City dwellers meeting their escalating living costs by renting out their spare rooms on AirBnB.
Drivers subsidising long car journeys and travellers saving on expensive train tickets by sharing rides through BlaBlaCar.
The 600+ global cities that have pay-per-hour bike access schemes, often subsidised through corporate sponsorship or advertising.
Flexible working and employment models supported by platforms like Upwork and TaskRabbit.
Reflect
How might you bring inspiration from the access economy into your company? Could you work more efficiently by owning less stuff? Could you give more value to your customers by providing access to your skills and resources in a new way?
Additional Reading(click icons to view)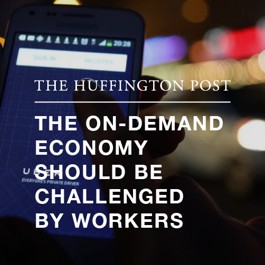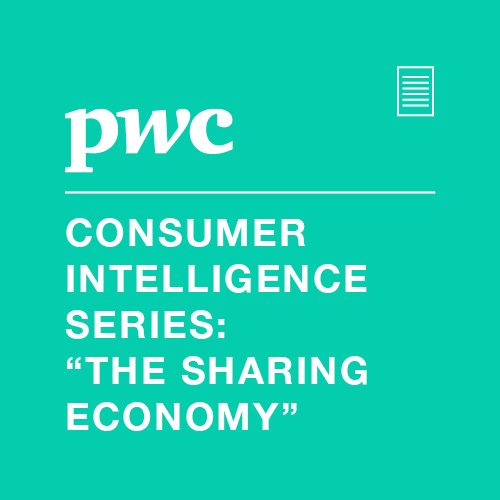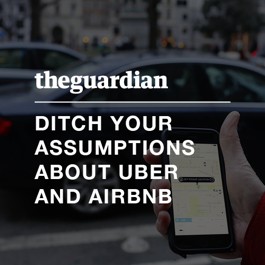 Pioneers(click icons to view)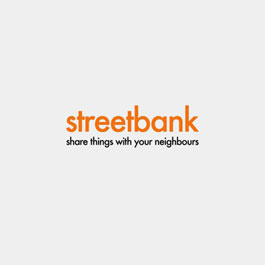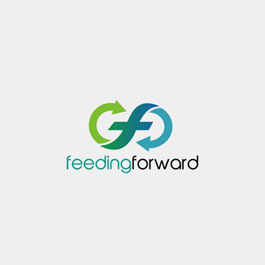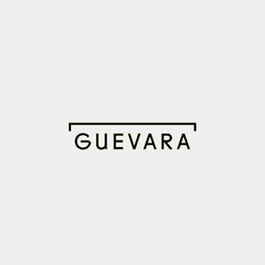 Business Trend 2 of 5
Agile Culture
Efficient working practices honed over years in the software development industry are being applied to other business areas. Practices like Agile Project Management with its short development cycles, daily micro-planning meetings, and in-depth evaluative retrospectives have seen widespread integration over the last few years.
Rather than the specific tools and methods it is the attitude and mindset that has persisted, and this trend will only grow. Many progressive companies will already develop an intrinsic agile culture, based on principles of customer-centricity, iterative development, and cross-functional collaboration.
They restrict the size of teams to help diminish issues like groupthink and social loafing (Google them!). In a small team, of between 5 and 8 people there is nowhere to hide. Everybody has to contribute and everybody has to have an opinion.
These teams are often self-organising and cross-functional. They are empowered to manage their time and resources, and work together to reach their goals. Openness, flexibility and transparency are essential, as work is shared continuously for feedback, and the business structures can adapt to the needs of the employees based on that feedback.
In an agile culture experimentation replaces detailed planning; autonomy replaces control; and transparency replaces secrecy.
We can see many similarities in Agile Culture with the trend Survival of the Fastest in the last issue of the report.
Reflect
How could you benefit from a more open and collaborative culture? How might you bring agile principles into your company? It may demand a different internal structure, a different workspace, or a different resourcing and budgeting model. What might that look like in your workplace?
Additional Reading(click icons to view)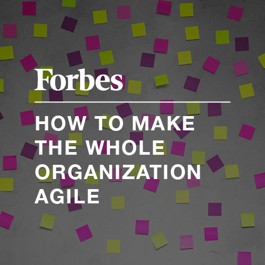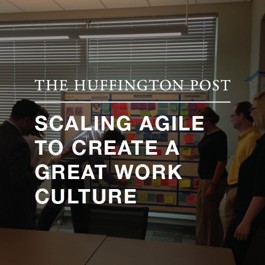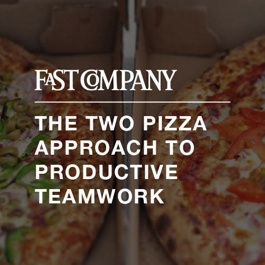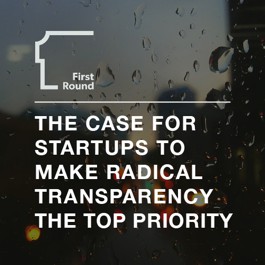 Pioneers(click icons to view)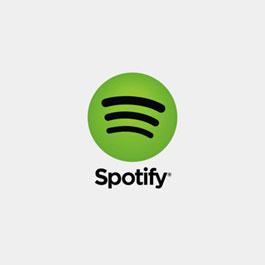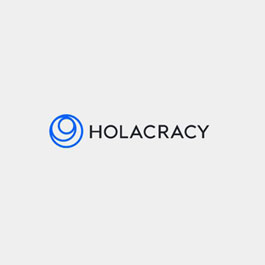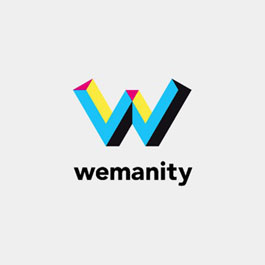 Business Trend 3 of 5
Work and life: Integrate or separate
Defining when we are "at work" and when we are not, is becoming increasingly difficult. The applications and devices that allow flexibility in the workplace, remote collaboration, and cloud storage have also made the concept of the office almost obsolete.
We used to be restricted by physical objects. Things like paper, filing cabinets, printers, and desktop PCs that forced us to be in the office to work. Now we can work from anywhere using our laptops, tablets, and smartphones, accessing and editing files, and communicating with colleagues. We need never switch off, working 24/7, always accessible and always productive.
There are two competing trends here. In a world where work and free time have merged, some people might attempt to clearly separate the two, and others will embrace the idea that their work is their life.
The latter has led to a movement of people away from corporations to setting up their own businesses, focused on passions like coffee, street food, social work, and the arts. By aligning their hobbies and interests with a clear social need or growing trend, these micro-enterprises are able to turn profits. By serving small and local communities they are able to develop strong relationships with their customers.
For those who stay in their jobs, they will not be tied to the office in the ways they've always been. By harnessing remote working tools and adapted organisational structures, employees will take control of their own schedules, finding a balance that suits them.
Reflect
What does the balance between "work" and "leisure" look like in your office? Or in your life? How might you keep the two more separate? Or how might you follow your passions and integrate them more closely?
Additional Reading(click icons to view)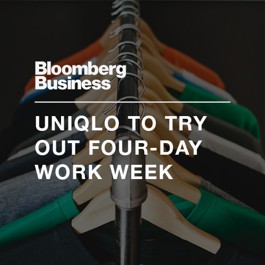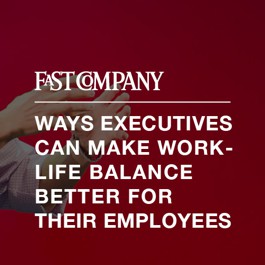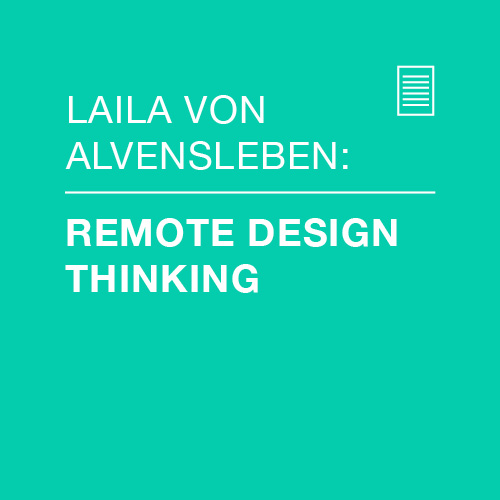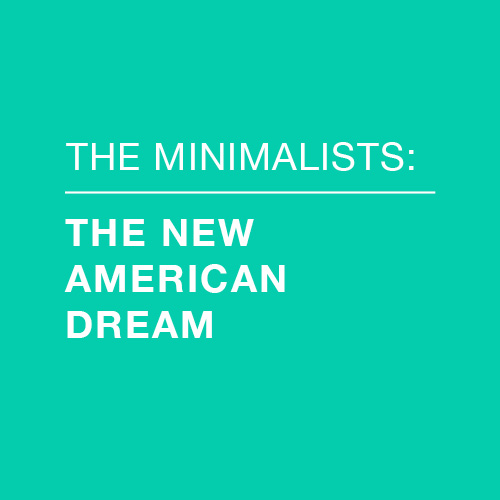 Pioneers(click icons to view)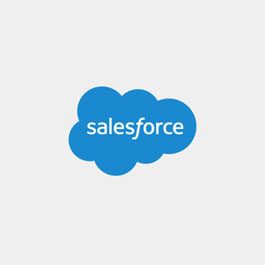 Business Trend 4 of 5
Constant collaboration
Collaboration can be many things in a business context.
It can be an unfortunate necessity, as with Apple, unable to find reliable alternative suppliers for their iPhone A9 processor chips still rely on their main rival Samsung for their manufacture. It can be a brave strategy, as with Amazon creating their Marketplace, collaborating with millions of users and allowing them to compete directly with the company on its own platform. This collaboration paid off and now accounts for 35% of Amazon's revenue.
As the digital revolution continues to gain pace, collaboration will become a necessity. Companies will partner with competitors in the same industry and boundaries will blur between products and businesses. The open source software movement is leading this trend. The software that powers 82.8% of smartphones across the world, Google's Android, is open source. This means that any company can take it, use it, contribute to it, adapt it, and sell it. The relationship is mutually beneficial, as the company gets free software, whilst Google gets millions more users.
Reflect
Transparency Drives Culture was a key trend in the last issue of the report. But this takes it a step further. How might you work with a pioneering company and share the process with anyone who wants it? Google and Hyper Island's 30 Weeks programme is an example of a collaboration that has been open sourced for the world to use. They played to their strengths to create a founders programme for designers.
How might you work with a competitor? Moleskine is the world's most famous notebook, and Evernote is its digital rival. Instead of trying to compete in each other's space they worked together to produce a beautiful notebook that could be easily digitized.
Who might you collaborate with to help you achieve your purpose? LEGO and NASA united on a project that enabled children to play and engage in science, tech, and engineering. Meeting the purpose of both organisations and inspiring a generation of builders and engineers.
Additional Reading(click icons to view)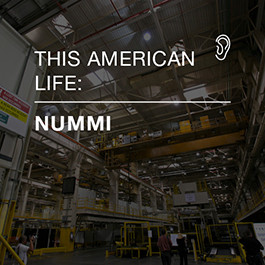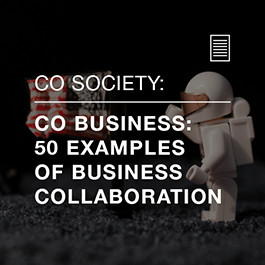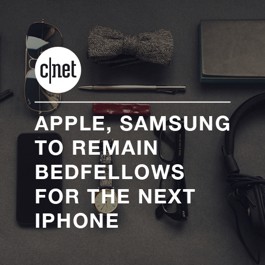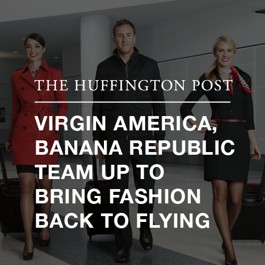 Pioneers(click icons to view)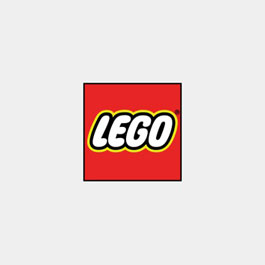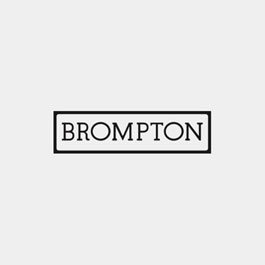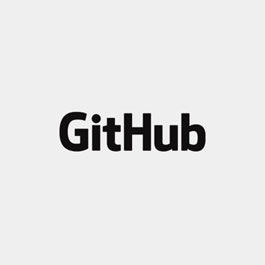 Business Trend 5 of 5
e-Leadership
Nearly every company will need to transform its business model to thrive in a digital economy, which means the executive team's knowledge and reputation in digital will also need to change.
Leaders of course don't need to learn how to code, or design user interfaces themselves, or analyse big data, but they do need to know the benefits of such crucial digital business tools. A key attribute that successful e-Leaders will have is curiosity. They should explore and embrace new trends, tools, and technologies as they emerge. They should be willing to try new ways of working and making. They should accept failure as an important step on the road to success.
Leadership in a rapidly changing world demands humility. Leaders should operate on the principle of hiring smart people, then working to remove any barriers to them doing great work. They shouldn't be afraid of hiring people who are more knowledgeable than them. If your digital marketing is awful, hire an awesome digital marketeer. If your sales analytics are useless, hire a superb data analyst and let them do their job.
e-Leaders need to trust in their knowledge and abilities to recognise when change needs to take place, and make that change. Alan Rusbridger joined The Guardian in 1974 as a journalist. From 2013 onwards he led the company's "digital first" initiative that turned it into the most progressive newspaper business in Europe. He was an old leader who became an e-Leader by embracing change.
Reflect
How might you and your company embrace digital change? What does your leadership team need to understand to start the transition? How can you demonstrate the value of digital literacy through your own work?
Additional Reading(click icons to view)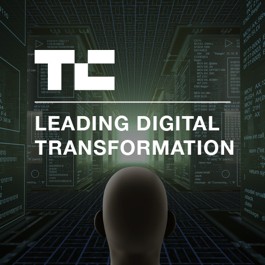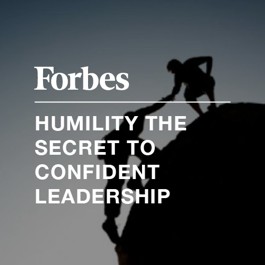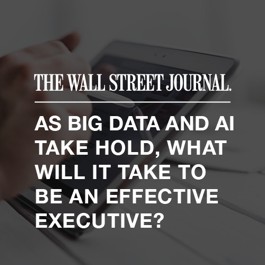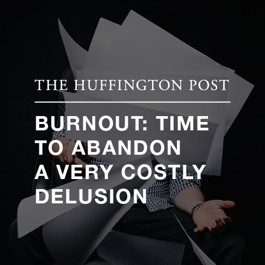 Pioneers(click icons to view)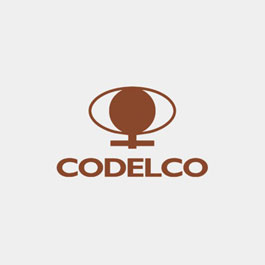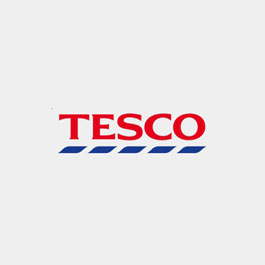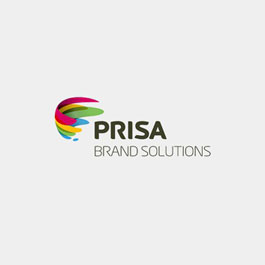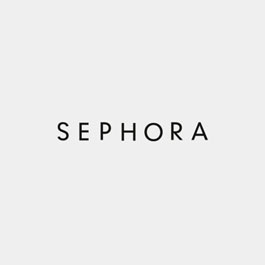 Previously published business trends
A new era in business is dawning, and 'Purpose' is what will set successful organizations apart. As users, consumers and citizens learn to engage and give feedback like never before, it's clear that they increasingly expect their products and services to express a clear purpose and set of values. More and more people are choosing to buy, participate, and engage when they recognize that a business or brand is driven by a purpose that resonates with them. A strong sense of purpose serves to drive confidence internally and externally, bestowing a competitive advantage in itself. As one thought leader on the topic puts it, "people don't buy what you do, they buy why you do it."
What is your purpose? Reflect individually or with a friend/colleague. Think about what makes you happy, what gives you energy, and how you can fill your life with those things. Now think about what makes you sad, what sucks your energy, and how you can avoid those things. Define your purpose in a written statement.
Additional reading
Pioneers
Speed and agility are two important, yet frequently underestimated qualities. There is a reason why disruptions often arise from nimble startups rather than their more powerful, established and wealthier rivals. Huge companies have thousands of people and multiple levels of bureaucratic processes that often dilute or kill off innovative ideas. A small company on the other hand, has just a few people highly focused on solving fewer problems, and can much more easily reach a consensus on how to proceed. In cases like this, resourcefulness trumps resources; David beats Goliath. Which kind of organization are you running?
In every organization there are barriers to fast decision-making and agile production. In your team put some time aside to look over a recent project. What went well? What could you have done differently? Where were the blockages, the troughs, the slow-bits? Discuss how you might change your working processes to speed up.
Additional reading
Pioneers
Trust is a high-value currency. It can be key to successful relationships at all levels of an organization. So the question arises: how do you grow trust in an organization? Increased transparency is certainly one way, but is there such a thing as too much transparency? Some companies, like Buffer, have taken a radical approach towards transparency, publishing everything from their internal culture to how their employees salaries are structured. Total transparency may not be everyone's cup of tea, but in a world where more information is widely available and easily accessible, an initiative towards openness may just work to your advantage.
Transparency and openness can be intimidating, but we see them as serious business tools. Increased trust leads to better working relations, which means fewer destructive conflicts and more opportunities through collaboration. Take a moment to think about one thing you've not been transparent about at work. Why have you kept it to yourself? What scares you about it? What's the worst that could happen? How could you be more open in the future?
Additional reading
Pioneers
How many times have you seen promising projects lose steam after being unnecessarily bogged down by corporate processes and policies? It feels counter-intuitive, but true innovation thrives in messiness, not structure. The best way to foster an environment for rapid innovation is to instill a 'Just Do It' philosophy in your company culture. Whether it's specific lean or agile methodologies, or a general prototyping approach, the key is to empower staff to start small, build, and to keep testing. The question remains: are you leveraging the full potential of your employees' capabilities right now?
We talk about doing things differently, but rarely follow through. What's that thing you've been talking about doing for years but have never quite got round to it? Got it? Now open up your calendar and set a date by which you're going to do it. Write a list of the things you need to buy, find, learn, or consider before then. Do them. Do them now. There's no time like the present.
Additional reading
Pioneers
Hiring and retaining the best talent is harder than ever. Your goal is to make great work, and to do that you need the best people and you need to keep them challenged and happy. With that in mind, it might be time to consider seeking work-life integration instead of work-life balance. Google is often cited as one of the best places to work because of its long list of perks ranging from dry cleaning to fitness to gourmet food. Most companies aren't able to replicate this, but the possibilities to entice new talent with a compelling, well-rounded offering that goes beyond base salary are endless. Whether it's flexible working hours, sabbatical programs, or a clearly defined mission; archaic corporate policies are worth revisiting to cater to the needs of people today. What are you waiting for?
People don't just want free things, they also want to be fulfilled at work. To achieve fulfillment they need a sense of autonomy, of mastery, and of purpose. Do you make space for these in your company? Are you all working on projects that inspire passion? How can you adjust your structure, work processes, and business strategy to do so?
Additional reading
Pioneers